When most people think of New York, they envision Broadway, the Statue of Liberty and a large population bustling from here to there. But about two hours beyond the city limits sits a quaint area called the Catskill Mountain region where visitors can stay at bed and breakfasts, participate in outdoor sports and shop more than 100 antique stores.

"The Catskill region went through a heyday in the 1950s that included a thriving nightlife, so stores are finding large quantities of antiques from that period," said Richard Delia, owner of Ferndale Marketplace Antiques and Gardens.

He pointed to vintage ladies accessories, oak furniture, glassware and chrome barware as popular items for his customers.

During the mid-1960s, New York City's businessmen bought vacation homes in the region, and wives and children spent the summer there. Usually, the homes served as showpieces with expensive furnishings and decor.

Now, people relocating to the area or buying summer homes want to create the looks of the past, Delia said. "We set up the items as vignettes or room settings so our customers can see how the item will look in their own homes," he said. "We have walking gardens outside that showcase antique statuary and garden pieces."

Maureen and Willie Bowers, owners of Heron Valley Antiques and Collectibles in Hankins, N.Y, saw wooden picture frames, solid wood furniture and beveled mirrors attract customers to their shop.

"A number of people in our area are buying and remodeling old homes and want to decorate these in an authentic style," Maureen Bowers said.

Heron Valley carries a selection of early Americana including vintage jewelry, lighting, artwork, glassware, textiles, tools and collectibles. The business, which opened in 1997, moved into a restored 1800s barn in 2001, and because business has proven so successful, it expanded to a second floor.

Bowers, like most of the Catskill-area antique shop owners, finds her inventory at local estate sales and auctions. This inventory includes quality items from the early New York settlements.

New York was among the original 13 colonies with Dutch settlers first inhabiting the area, explained Richard S. Axtell, president of Axtell Antiques in Deposit, N.Y. Therefore, items from as far back as the 17th century can be found in area shops.

He admitted, however, that finding such objects gets more difficult each day. "The first items I sold (in 1968) were easily found; now the reverse is true," he said.

People are more likely to purchase reproductions of 17th- to 19th-century items, rather than hunt down true antiques, Axtell added.

Leaving the city behind

Several local dealers said they came to the Catskill region to leave the hustle and bustle of the city behind.

Linda Slocum, owner of a Narrowsburg-based antique store, left the metropolis of New York for country life. She figured opening an antique shop rounded out her quaint experience.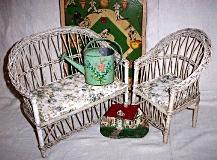 This group of antiques includes wicker doll's furniture from the 1920's, an early child's watering can, a "Cottage" cast iron door stop and a vintage baseball pinball game.
---
Her inventory runs the gamut from Victorian to modern pottery, glass, textiles, kitchenware and cultural artifacts. Slocum has found a difference in the goals of shoppers from 1993 when her shop opened and today's shoppers.
"The customers were much more interested in looking at old things," she said. "Very often, the customers would be curious about the history of the antique, its materials, age, its use, where it was found, etc. The business of antiques was, to me, an interactive and social one."
With the emergence of the Internet, the day of learning has turned into the day of finding. "That has made the business much more about a transaction than an interaction," she said. Still, Slocum tries to keep her small business personal, helping her customers "find that elusive something."
Many customers are building collections of items they once had for future generations, she added. Delia, who owns Ferndale Marketplace Antiques and Gardens with friend Ron Greco, decided to exit corporate America in 1999 when they bought a four-story historic Victorian building. Greco worked for years as an interior designer, and Delia had a business marketing background. They brought the building back to its full grandeur and set up a shop within.

"I realized we needed a targeted antiques shop piece for the visitors and local residents alike, so we designed and published the Sullivan County Antiques Trail Map with 21 destinations" said Delia. "I am currently working on the 2003-2004 map and plan on doubling the number of shop listings."

In New York, fancy parties and black-tie events happen everyday, so people come to the Catskill shops hunting for fine jewelry and accessories from the 1930s through
1950s, Delia said. "These jewelry designers were the artists of their time, creating masterpieces with rhinestones, faux pearls, glass beads and other materials to make a dramatic statement, especially when worn with a smart outfit," he said.

Delia has also seen an increasing number of people scouring local stores for high-class glass, including Fenton glass, etched and pink Depression glass and serving pieces with silver overlay designs. Whether it's clothing, glassware or furniture pieces, elegant and high-class have become the trend, he added. With such a variety of shops in the region, many dealers have chosen to specialize in one area of vintage merchandise.

Dan Edminster, proprietor of The Lampworks in Hurleyville, sells vintage oil and kerosene lighting, predominantly from the Victorian era, as well as complementary furniture.

"I stock vintage lamp parts for collectors, restorers and dealers," he said. "I also carry books on lamps and lighting and sell lighting-related ephemera."
---
"The majority of our customers for antiques and collectibles are
visitors from out of the area, or weekenders, who are furnishing their place in the country . . . they enjoy the reasonable prices they can find in shops out here."
- Linda Slocum, antique shop owner
---
The Lampworks got its start in 1992, the year Edminster's son Anthony was born. He realized his love of lighting cost quite a bit of money, so he starting selling as well as buying. The shop is housed in an old barn on four acres of landscaped grounds, right behind the owner's house. "We're always open, just knock at the house," he said.

Hurleyville houses six antique shops. Patti Valente, owner of Antique Phonograph Supply Co., relocated from New York City to Davenport Center in the 1980s. With the Internet, she was able to reach the customers she served in the metropolitan area.

She sells parts and materials for the restoration of antique wind-up record players. "This is a challenging business because it incorporates so many sciences," Valente said. "Our main springs are made from special steel produced from original specifications" Valente acquires new pieces from customers selling off parts of their collections.

All the regional shop owners said they're seeing a return of tourists and residents to the area, as well as businesses relocating, which in turn drives more people to the area.
"The majority of our customers for antiques and collectibles are visitors from out of the area, or weekenders who are furnishing their place in the country," Slocum said. "They come from urban areas such as New York, New Jersey and Connecticut, and they enjoy the reasonable prices they can find in shops out here."
Stefanie Scott is a freelance writer from Appleton, Wis.